So many fun adventures this summer in Japan, and so many wonderful people I shared it with!
This visit to Japan I brought my climbing gear and joined a mixed group of locals and foreigners for a beautiful summer day in the mountains near Hanno Station, in this area: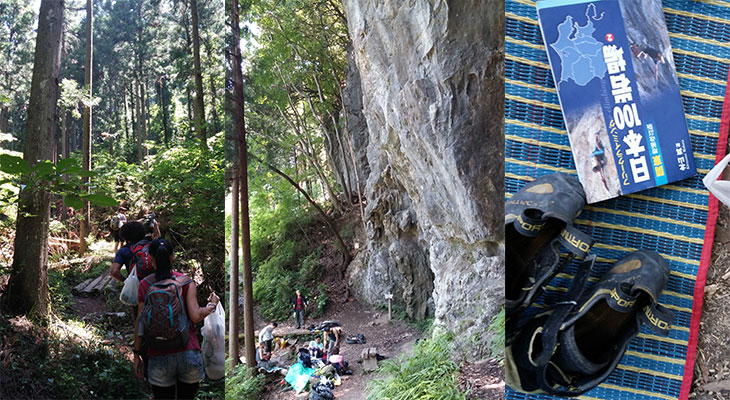 There were some really strong Japanese climbers in the group. The routes were pretty short but plenty tough. It was a very relaxed atmosphere. I amused myself by trying to read the Japanese text climbing guidebook.
I spent my summer frequenting Shinjuku Gyoen park and Yoyogi park on the weekends to picnic, slackline, do yoga, paint, and drink.
My friend Jaimeson and I taught so many Japanese people the joys of slacklining. Its fun seeing Japanese people wrap their head around the pointlessness of walking on a length on nylon for fun.
The picnics with Rachel and friends were always very relaxed, fun times to get away from the city life.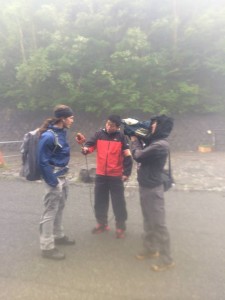 We hiked Mt. Fuji in the cold rain, spending the night in a lodge on the mountain. As we were departing I was interviewed by a local TV crew asking why I was going up despite the weather. I told them "to protect the ladies" because my crew I was hiking with happened to be 3 women and myself. The hike was miserably cold and wet, as portrayed in the following:
A great way to spend a summer sightseeing in Japan is via road biking, which my close friend Carol was very happy to join in.

Unfortunately there was also a lot of rain for many of our rides

Another hobby I tried for the first time was windsurfing!

Finally, I really enjoyed running about twice a week with the Tokyo House Hash Harriers. Its that crazy running group that does about 5 miles then goes to a restaurant and eats, drinks, and is marry together. It was a fun way to hanging with English speaking Japanese people outside of a professional environment where they weren't afraid of being crazy.
Overall, it was a really adventurous fun summer, I loved it!