I recently went on my first Canyoneering trip in Ticaboo Mesa area, just outside Lake Powell, Utah. It was a fun 3 day adventure with a group of 12 strangers from a Meetup.com group. The trip leader Yannick is an amazing world traveler with many great stories.
I really wasn't sure what canyoneering was going into the trip but basically its extreme hiking with rope. You hike into slot canyons (narrow canyons formed by rushing water) and when it drops off, you use ropes to rappel down. Ingenious methods have been devised in the canyoneering world to create anchors that leave no gear behind. I learned about sand bag anchors – clever bags that have a "dead man" pull cord. When the cord is pulled, the bag walls collapse down – releasing the sand and disabling the anchor. This allows a team to easily explore deep slot canyons with only a few ropes.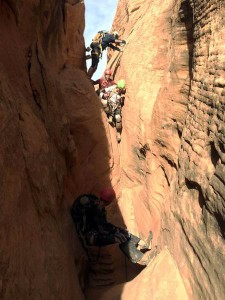 One thing I certainly wasn't expecting in the canyons was the unforgivingness of the sandstone walls rubbing against your backpack, clothes, shoes, and even skin. My brand new belay gloves instantly got holes in their fingers due to my climber-like tendencies to crimp on anything and everything. My medium size backpack (large day pack) got holes all along its internal frame – internal frame backpacks are terrible for narrow passages. And my novice lack of elbow and knee pads quickly led to large scrapes in my skin.
My advice for beginners – bring lots of DUCT TAPE. It is indispensable in thwarting off the abrasion. Yannick recommended wetsuits for the trip and I did bring mine, but it ended up being too dry for their use.
In summation – canyoneering is a unique sport that I'd try again but I would never call it my favorite or primary interest. I'm ready to try caving now…